Top ten reasons for rebranding
Sooner or later the time comes when your corporate identity is no longer up to scratch. Recognising when this is the case may seem difficult, but in the life of a business various moments arise that lend themselves very well to a change, or even necessitate one.
On average, organisations and brands change their corporate identities once every seven to ten years. This often involves restyling logos, colour palettes, visual language and photographic style. In a small number of cases, the name of the organisation is also changed during this process. Although there is usually one main reason for making a change, the motivation behind a rebrand project is often a combination of several factors. Here is an overview of the ten most common reasons for a corporate rebrand:
Why Rebrand A Company?
Large corporations like Coca-Cola, Shell, and PepsiCo have long dominated global markets. However, the internet has empowered mid-sized and small firms to reach international customers as well. When venturing into new, global markets, it is crucial to re-examine your brand or product names.
Product names must make sense to overseas customers, and you should not rely on computer translations. Instead, consult with a local to help you communicate effectively. For example, Lay's uses different brand names in various markets, including Walkers in the UK and Smith's in Australia.
LG electronics is another company that changed its name to conquer overseas markets. The Korean brand was formerly known as Luck and GoldStar. It began using the name LG in 1995 to appeal to western customers. If you use a new logo, ensure it is not offensive or culturally-sensitive.
Examples of rebranding failures
Radio Shack rebrand failure

With the halcyon days of gathering around the family radio long past, Radio Shack is no longer a name that conjures images of cutting-edge technology. When Lee Applbaum stepped in as Radio Shack's chief marketing officer in 2008, he sought to distance the brand from its more antiquated roots by rebranding as "The Shack."
Despite a new focus on wireless technologies in their retail locations to accompany the new name (and a small bump in profits immediately following the rebrand), Radio Shack continued to decline, and "The Shack" was abandoned.
Radio Shack had established itself as a resource for DIY electronics enthusiasts, and that consumer niche had kept them aloft for years. When they rebranded as "The Shack," they turned their back on those DIY hobbyists to pursue modern tech-savvy consumers. However, the broader tech competition proved too stiff, and Radio Shack filed for bankruptcy in 2015.
How to avoid this: Choose a new business name, company logo, and corporate identity that won't alienate your most profitable audience. And, if you're going fishing for a new audience, make sure it's a fish you can catch.
Tropicana rebrand failure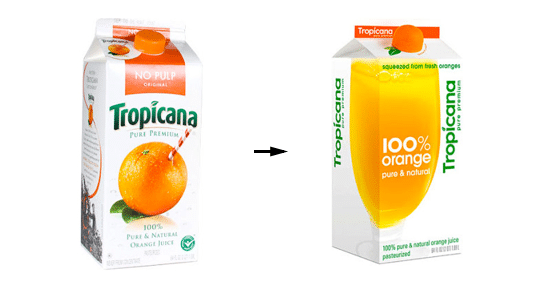 The original Tropicana logo featured a unique, signature design— an orange punctured by a straw. The logo implied that Tropicana's juice was fresh, undiluted, and direct from the orange.
The singularity and playfulness of the orange and straw visual made for a powerful brand image. It was instantly recognizable on the shelves and had had years to establish a relationship of trust with Tropicana's consumers.
Tropicana's packaging's new image depicted a large glass of orange juice, which unfortunately read as a flat, orange gradient. The traditional Tropicana font was traded for a more streamlined modern font, and every last bit of recognizable character was lost.
It's possible that some consumers couldn't even find Tropicana on the shelves because of how stark the differences in packaging were. Those who did find the newly packaged Tropicana strongly disapproved. Information Resource, Inc. reported that Tropicana's sales dropped by 20% immediately following their brand relaunch.
How to avoid this: Aim for a signature look that says something about who your company is. If you already have one, abandoning your signature look for a nondescript design is a step in the wrong direction. Keep what works for you and discard what doesn't.
PricewaterhouseCoopers rebrand failure
PricewaterhouseCoopers took the rebranding plunge in 2002 when they decided to sell off their business's consulting branch. Bizarrely, they chose to name their new consulting offshoot after a day of the week: Monday. The strangely vague and unrelated new name was met with immediate ridicule and was abandoned within a year.
The first lesson is purely common sense— a business name that has nothing to do with your business tells your audience nothing about your business; and, consequently, nothing about why they should care.
Keeping the same business and domain name ensures that consumers can find you after you've unveiled your new brand identity. It probably goes without saying then that it's not a great idea to both change your website's domain name and select a new name that's so ubiquitous that your business will never be found in a Google search again.
"Monday" was not specifically related to PwC's financial consulting business, nor was it unique enough to make a useful search engine term. Potential clients would be forced to comb through pages and pages of "Monday" results before they finally stumbled upon the Monday they were looking for. They would most likely give up long before then.
How to avoid this: Uniqueness and Specificity are key. Select a business name that will allow your audience to find you in the online crowd. And, if changing your name is part of your rebranding plans, choose a name that reflects who your company is and what you do.
Hershey's rebrand failure

Hershey's original logo featured a 3-dimensional design depicting their name and a dainty, silver-wrapped Hershey's Kiss at the far right side. While utilizing a flat, modern style and font, their new logo remains reminiscent of the previous, well-known logo. However, the reworked Kiss strongly resembles a brown, stylized steaming pile of poo. This did not go unnoticed.
Sources:
https://vim-group.com/en/blog/top-ten-reasons-for-rebranding/
https://colibridigitalmarketing.com/why-rebrand-a-company/
https://www.crowdspring.com/blog/how-to-rebrand/